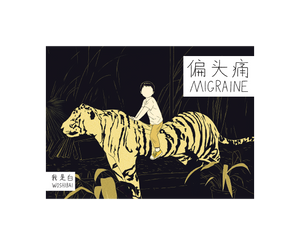 Migraine
Regular price
$8.00
$0.00
Author: Woshibai 我是白
Digital / b&w / 40 pages / 5 x 3.5"
ISBN: 978-0-9989050-2-0
Printed in China
This book is currently available as part of the Lianhuanhua Bundle.
Woshibai's comics open up a beautifully rendered world of human and animal-like figures that exists adjacent to ours. More bound to reality than many of his works, this wandering autobiographical snapshot details his memories of growing up on the outskirts of Shanghai.
"Alienating yet compelling." - The Comics Journal
This book is part of Paradise Systems' series of contemporary lianhuanhua.
Woshibai was born and raised in Shanghai. He worked in video game art direction for several years but now works full-time as a freelance illustrator and cartoonist. He is completing his first collection of comics.
Shipping within the US: $1
---
More from this collection