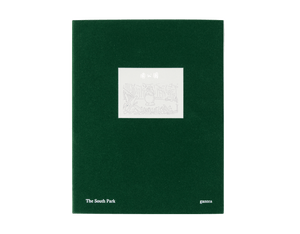 The South Park
Regular price
$28.00
$0.00
Author: gantea
Offset printing / 2 color / 76 pages / 7 x 9" 
Published by O.Q Comics.
The South Park is the first mid-length comic by gantea. It tells the story of two friends walking through a soon-to-be demolished park. At the top of a Ferris wheel, they unexpectedly solve the mystery of an urban legend circulating in the city.

Embellished with a suite of delightful features, The South Park is a triumph of book design. It includes tear-away panels, a velvety green cover, a bilingual page layout, and more.
O.Q Comics is an independent comic publisher co-founded by OlgaZ and Qiliq. O.Q uses comics as a means of self-expression and endeavor to find the boundaries of the language of comics. They hope to continue on with friends who also love exploring comics.
gantea was born in Urumqi and now lives in Beijing. Her favorite animals are the manatee and the anteater.
---
More from this collection